Kansas City Chiefs Tailgate / Tailgating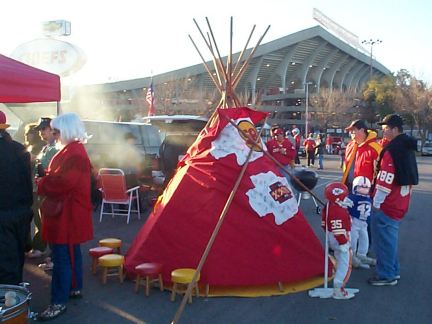 The Chiefs have one of the best tailgating circles in the NFL, MLB or any other event. Chiefs fans are typically let into the parking lot about 3 hours prior to kick off, the only exception being licensed large vehicles like buses and trucks, etc. The bus gate is open as early as 6am but access requires a special pass.
General tailgating begins typically around 3 hours prior to kick off (usually noon at Arrowhead Stadium) and fans tailgate ALL over the parking lot. There are large tailgate areas where 20+ fans pitch in to take over different tailgating duties, and there are also hundreds of small tailgate circles spread out throughout the parking lots. The parking lot at Arrowhead Stadium is MASSIVE and is actually a grouping of several separate parking lots - and there is a tailgate going in every one of them.
As most people know, Kansas City is known for BBQ, so if you are going to attend a Chiefs game you are going to see a LOT of BBQ grills cooking up delicious tailgate food. From BBQ chicken to ribs and everything in between.
Some fans actually never even leave the tailgate and they stay out in their vehicles and watch the game on portable televisions! There will be nerf footballs flying around, bean bag toss games everywhere and lots of BEER and BBQ at a Kansas City Chiefs tailgate. See you out there!