Dueling Pianos | Reviews | Bands | Weddings | Chiefs | News | Restaurants | Bands for Hire Live! | Audio Visual | Comedy Radio | Charity Events | Hotels | New Year's Eve
Kansas City Dueling Pianos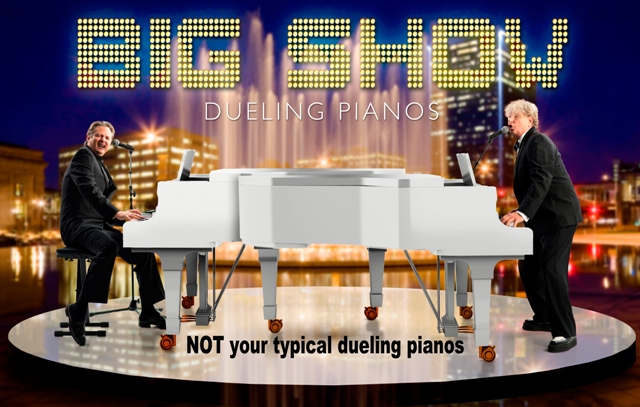 The Latest Craze!

One of the hottest new crazes for weddings, charity events, company parties and corporate events, nightclubs and festivals, Kansas City dueling pianos are quickly becoming a premier entertainment option. Utilizing the art of crowd interaction, performing songs that everyone knows, loves and can sing along with, and most important of all, a completely customizable program format, the art of Kansas City dueling pianos are becoming a popular choice for events all over the KC area. Although our city has a lot of excellent live bands, they are not as personalized and entertaining for all age groups as the dueling pianos. These multi-talented musicians are known for their skill at performing songs from every generation, involving the audience, and incorporating comedy into their performances. Kansas City dueling pianos are able to perform for large corporate events and galas, and also compact enough to perform for smaller events like company parties and weddings while keeping the energy at a maximum throughout the entire performance.

History of Kansas City Dueling Pianos

This unique form of entertainment actually originated in Las Vegas at the famous New York, New York Hotel and Casino. The first venue to feature Kansas City dueling pianos was a restaurant in Liberty, Missouri that basically operated as a large restaurant during the week and then on the weekends they moved some tables around in an elevated area and featured dueling pianos. The restaurant closed but one of the piano players that used to perform there decided to start a corporate dueling piano act. This piano player visited the New York, New York hotel and casino in Las Vegas to get some ideas on how to work up a good, high quality act including custom built pianos, a state of the art sound and light system, and to gather the most requested dueling piano songs. After the Las Vegas visit, this pianist came back to Kansas City and put together KC's first dueling pianos act, Roll Over Beethoven. This act began performing for high end corporate events, charity galas, wedding receptions and company parties all over the city.

Kansas City Dueling Piano Bars

Right around 2003, a National dueling piano bar chain set up shop in Westport, becoming the first dueling piano bar in KC. This establishment was moderately successful and remains open today. A few years later, The Power and Light District was completed in downtown Kansas City amongst several other bar chains and restaurants, and they also offered an outdoor courtyard with a main stage for concerts, etc. This area became very popular with rural visitors, coming in from small towns like Cameron, Liberty, Oak Grove, Excelsior Springs, Lawson, Lee's Summit, Blue Springs and Briarcliff. Soon after the Power and Light District got going in full swing, another National piano bar chain came in and set up shop in the district becoming the second and last Kansas City dueling piano bar. Both bars continue to operate to this day with moderate success.

Kansas City Dueling Pianos Resources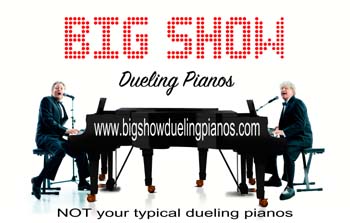 Kansas City Dueling Pianos

Dueling Piano Videos

Most Popular Dueling Piano Songs - Requests

Dueling Pianos for Hire



Dueling Pianos for Weddings


Dueling Pianos for Corporate Events


Dueling Pianos for Charity Fundraisers / Galas

St. Louis Dueling Pianos

Omaha Dueling Pianos

Arkansas Dueling Pianos

Iowa Dueling Pianos

Florida Dueling Pianos

Nebraska Dueling Pianos

National Dueling Pianos

Kansas City One Stop is your one stop website to find information on KC reviews, bands, weddings, The Kansas City Chiefs, The Kansas City Royals, news, restaurants, bands for hire live, audio visual company, comedy radio, charity fundraisers and events, Kansas City hotels, information on New Year's Eve parties in Kansas City, 20s for KC, Halloween events in KC, downtown action and Kansas City dueling pianos. Visit often as this site is updated daily with fresh information about the Kansas City area including the Plaza, Westport, Overland Park, Leawood, Mission Hills, Lee's Summit and other surrounding areas in the KC area. Kansas City One Stop is locally owned and operated. Our goal is to bring you everything you need to know about our great city in one nice and easy "stop".

Kansas City Restaurants | Kansas City Bands | KCMB - Kansas City News | Bands for Hire Live! | BIG SHOW Dueling Pianos | kansas city wedding venues | Audio Visual AV Solutions KC | KC wedding bands | Kansas City Band and DJ Service | Kansas City DJs - Wedding DJs | Graduation Song | Omaha Dueling Pianos | Kansas City Bands for Hire | The Zeros Band | Liverpool | Dave Stephens Band | | Four Fried Chickens and a Coke | Nebraska Dueling Pianos | 2020 | Dueling Pianos | The Sunday Jones Comedy Radio Show | The Wednesday Hump Comedy Radio Show | charity fundraiser entertainment | corporate events company parties

_________________________________________________________________________________





Kansas City dueling pianos by Kansas City 1 Stop - All Content Copyright 2020 by American Entertainment Solutions, LLC.