Kansas City Weddings
Help with Planning Your KC Wedding Ceremony | Help with Planning Your KC Wedding Reception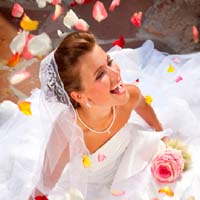 HOT KC Wedding Bands!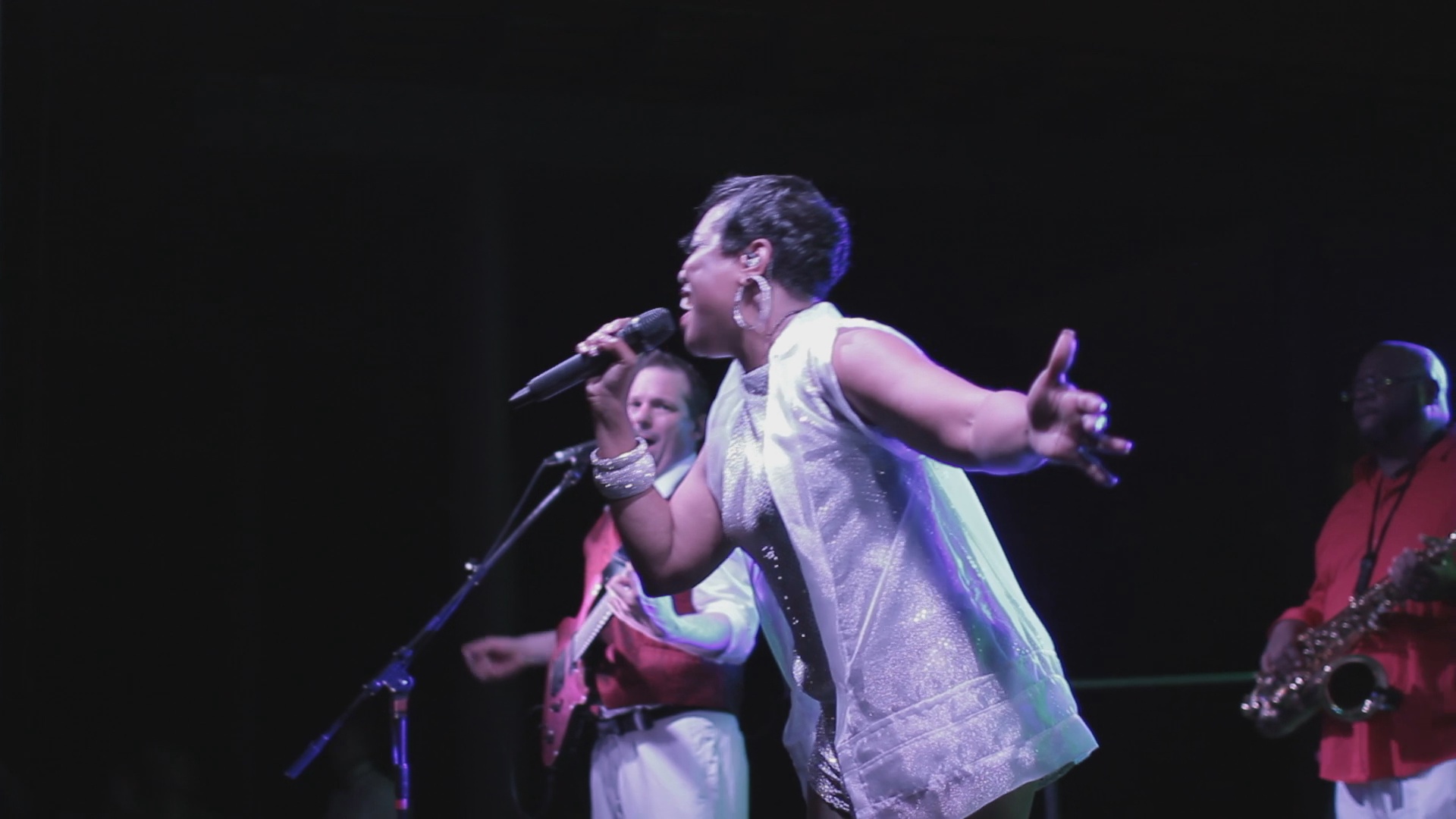 The KC All Stars - Voted "Best Band in Kansas City" by KMBC TV 4 Years in a Row! - KC Wedding Band Info

Ceremony Music - Choosing Songs for Your Big Day
How to choose the perfect mix of songs for your KC wedding ceremony - from your friends at Kansas City One Stop

Depending on the denomination of your wedding ceremony, song choices may vary widely, but here are a few guidelines to follow when it comes to choosing the music for your big day. For most religions, you can use the following sample as a guide - at least to get you started in planning your wedding ceremony music...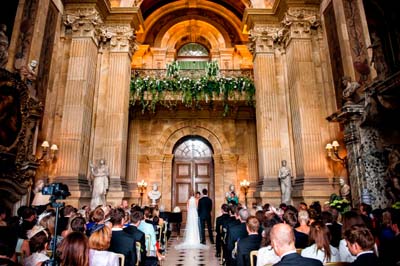 SEATING

- The

first thi

ng that you will need music for at your wedding ceremony is SEATING. Your guests will be entering the church or other venue and will be getting ready to be seated for the ceremony. Here are a few song suggestions for the SEATING portion of your Kansas City wedding ceremony:

Air - George Frideric Handel (classical)
A Time For Us - (theme from Romeo and Juliet)
A Rose is Gently Blooming - Brahms (classical)
Orchestral Suite No. 3 in D Major - Yo-Yo Ma (classical)
A Lover's Concerto (Minuet in G Minor) - Johann Sebastian Bach (classical)
24 Preludes, Opus 28 Number 7 in A Major Andantino - Chopin (classical)
The Wedding Song (There is Love) - The O'Neill Brothers (traditional folk)
Falling in Love - The O'Neill Brothers (piano)

These wedding ceremony seating songs are merely suggestions, you can certainly make any kind of songlist you wish for your big day. Just make sure that you choose enough songs to give your guests time to arrive at the church or venue, mill around for a minute and find a seat or be seated by the usher(s). We recommend about 45 minutes of wedding ceremony songs for seating - just to be safe. You can always stop the music when everyone is seated if you don't need all of the wedding songs that you picked out. Better safe than sorry, we always recommend :)
WALKING DOWN THE AISLE - WEDDING PARTY - After your guests are all seated it is time to begin your actual wedding ceremony. Here are some suggestions for songs to walk down the aisle to for the wedding party, flower girls, etc. - in other words, anyone who will be walking down the aisle EXCEPT the bride:

Canon in D Major - There are several different versions of this (classical) song but the version by the English Chamber Orchestra is great because it is 6 and a half minutes long and can typically get everyone in the wedding party down the aisle before the song is over.
Air from Water Music - Tafelmusik (classical) - if you need a little bit of extra time to get your wedding party down the aisle then you can have this song on back up just in case :)

Obviously, you can personalize the aisle songs to go with whomever is walking down the aisle. Some couples like to have a different song for different people or groups of people, etc. Some couples take a more modern approach and choose more modern music to walk down the aisle to, this is great as well. Remember, it's YOUR wedding ceremony, so make it your own and have some fun planning it out!
HERE COMES THE BRIDE - When it's time for the bride to walk down the aisle, the traditional song is called Bridal Chorus from Lohengrin. That song is performed by SEVERAL different artists so just get on iTunes or Amazon and sample different versions until you find the one you like best.

Obvisously again, this is a personal choice and feel free to walk down the aisle to any song you like, after all, it's your wedding ceremony :)

RECESSIONAL

- After you hear the words "you may now kiss the bride" then the music for your wedding ceremony turns to what is known as the Recessional. The recessional lets everyone know that the ceremony is over and gives the couple a nice song to walk back up the aisle to. You should keep this music going for as long as you think it will take your guests to be dismissed from the wedding ceremony area, the couple exiting first, of course. The song that is most used FIRST in this list of songs is Wedding March from a Midsummer Night's Dream by George Szell. In the case of this song there are several different versions besides the George Szell version, so visit iTunes or Amazon and sample some of the different versions of this wedding recessional song. Other songs to add to this list might be:

Ode To Joy - Traditional (classical)
Trumpet Voluntary - Wynton Marsalis (classical)
All You Need Is Love - The Beatles
Hallelujah - The Mormon Tabernacle Choir
Ave Maria - O'Neill Brothers
Kansas City weddings is brought to you by Kansas City One Stop, offering planning ideas for your KC wedding ceremony and KC wedding reception including song selections for seating songs, walking down the aisle songs, recessional songs and other ideas to help plan your Kansas City wedding ceremony.




Kansas City One Stop is your one stop website to find information on KC reviews, bands, weddings, The Kansas City Chiefs, The Kansas City Royals, news, restaurants, bands for hire live, audio visual company, comedy radio, charity fundraisers and events, Kansas City hotels, information on New Year's Eve parties in Kansas City, 20s for KC, Halloween events in KC, downtown action and more. Visit often as this site is updated daily with fresh information about the Kansas City area including the Plaza, Westport, Overland Park, Leawood, Mission Hills, Lee's Summit and other surrounding areas in the KC area. Kansas City One Stop is locally owned and operated. Our goal is to bring you everything you need to know about our great city in one nice and easy "stop".

Kansas City Restaurants | Kansas City Bands | KCMB - Kansas City News | Bands for Hire Live! | BIG SHOW Dueling Pianos | kansas city wedding venues | Audio Visual AV Solutions KC | KC wedding bands | Kansas City Band and DJ Service | Kansas City DJs - Wedding DJs | Graduation Song | Omaha Dueling Pianos | Kansas City Bands for Hire | The Zeros Band | Liverpool | Dave Stephens Band | | Four Fried Chickens and a Coke | Nebraska Dueling Pianos | 2020 | Dueling Pianos | The Sunday Jones Comedy Radio Show | The Wednesday Hump Comedy Radio Show | charity fundraiser entertainment | corporate events company parties

_________________________________________________________________________________


Kansas City weddings - ceremony, reception planning ideas by Kansas City 1 Stop - All Content Copyright 2022 by American Entertainment Solutions, LLC.